Digital Wireless Point To Point (WP2P) System
EFFECTIVE, RELIABLE, LOW COST WIRELESS REMOTE CONTROL
The Digital Wireless Point to Point (WP2P) system is a wireless remote control solution with three switched inputs & three relay outputs. Simply operate a switch and the relay at the other end also operates, allowing you to remotely monitor & control three independent devices.
There is no configuration or programming required, simply wire the connections and connect the power.
This innovative and cost effective system allows you to:
Switch a pump, irrigator or solenoid valve on and off remotely
Confirm if your irrigator is switched on and pumping water
Open an electric gate and then turn on a light
Send pulses from a flow meter across a field, without installing expensive cables
Replace an existing 6 core cable with wireless technology
Key Features:
Low power consumption, typically 6mA, making it ideal for solar or battery installations
No programming with easy mounting and installation
Line of sight distances of ~350m with the supplied antennas, ~2km with whips, ~4km with Yagi antennas
Radio communications confirmed with Link Status LED
State of the art digital radio using 900MHz Digital Modulation
Configurable failsafe output hold feature on latest Rev E version
WP2P Star configuration option also available using four modules
900MHz radio systems work reliably with clear "line of sight". If this is not possible, consider using our WP2P Repeater and/or optional antennas.
This product requires an antenna and power supply. Please select the most suitable option for your application from our range of Antennas & Accessories.
Application Examples
These examples are just some of the many ways the WP2P systems can be used: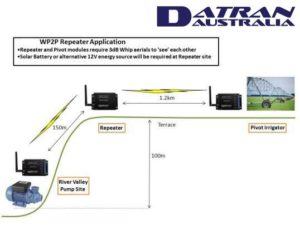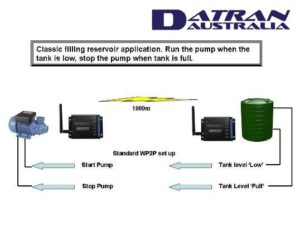 Specifications
Frequency 917MHz to 927MHz
RF Output 100mW
Digital Modulation technology
Dimensions L 112 x W 76 x D 26 mm
Enclosure Steel, powder coated
Power connector 2.1mm DC jack, centre positive
Supply Voltage 6 V—24 V DC (max 28 V DC)
Short circuit and reverse polarity protection
Current Consumption 6mA Typical
Weight Less than 350g
Ordering Details
Product Code: PD8810-WP2PE (supplied as a Matching Pair)
Product Code: PD8810E (Slave Module) for star configuration or module replacement
NOTE: The radio code must be stated when purchasing for WP2P module replacement.
The WP2Ps do not come with DC power supplies or DC power cables, please select the most suitable option for your application.
Please refer to our website for further product information and optional accessories.
Customer Feedback
Robert D. – "Perfect"
Warren S. – "Worked first go… All running nicely." – Electrician who installed was extremely impressed and requested Datran Australia contact details.